I bought this
Kit Wireless 700mW
from Securitycamera2000 , This kit is used for CCTV and also for FPV,although only 4 channels, my idea is to modify it to expand the frequency transmission and reception.
Original Channels:
1 1080MHZ
2 1120MHZ
3 1160MHZ
4 1200MHZ
I started to modify the circuit of the receiver,the main board contains the video amplifier, the audio demodulator and the microcontroller to control the PLL inside tuner module.
This module is as found in the old analog satellite receivers,the PLL is the TA1322FN chip, also contains down converter circuit is very similar in programming the SP5055,in my tuner the address selection pin is grounded.
Details pins for tuner module
Controller core is the PIC16F628A, a 16x2 display and 4 buttons for setting.
FEATURES
900MHz to 1300MHz frequency
Step 250KHz, 1MHz, 5MHz and 10MHz (Up Date 20/02/2012)
Supports up to 8 pre-set frequencies
Button lock mode
Automatic shutdown of the display backlight after 10 seconds
4 adjustment button:
Button up: frequency up
Button down: frequency down
Step button: short touch = change step / touch along = locks
Memory button: short touch=call preset channels/ long=records in memory / lock mode =unlocking three hits
Hex file and schematic available
here
Any questions or comments please do not hesitate to contact to the email
josuezb81@gmail.com
, I can also customize the text on the second line display and the frequency range.

if you believe that the information provided is useful and can help you, please consider making a donation that will allow me to continue with projects like this.
Visit my blog about
DATV
in spanish.
Thanks for visiting my blog.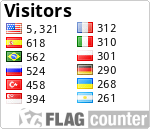 Free counters